Sovereign's Award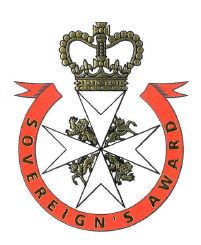 The Sovereign's Award is the premier award for youth in St John and is internationally recognised and is the only award to be signed personally by the Sovereign Head of the Order. This Award ranks immediately senior to the Grand Prior's Award.
The Award has been established to recognise outstanding achievement by members of St John aged between 16 and 25 years. It aims to provide opportunities for young members to develop initiative, broaden their knowledge and experience and encouraging personal achievement.
The Sovereign's Award is awarded to members in recognition of outstanding work in three key areas:
Personal development;
benefit to St John in New Zealand, and
benefit to the community.
Who may apply?
To be eligible Cadets need to have completed the Grand Prior's Award; be between 16 and 25 years old; and have completed five consecutive years of recognised service as a cadet or adult member at the time of the completion of the Award.
Mentor
Cadets need to appoint a mentor for the duration or your project. The mentor is there to assist Cadets during the life of your project, right from the development stage all the way through to its conclusion.
Your mentor needs to be a Divisional Manager or above or a person who has the skills and experience to be able to support you throughout the project. Contact your Regional Youth Manager to discuss who may be a good match as a mentor for you and your project.
How to apply?
You need to complete the application form available from your Divisional Youth Manager.
The information required is:
Personal details to confirm you meet the applicaiton criteria
Details about your project
Details about your mentor and their signature*
Signature of your immediare manager*
Your application forms are to sent to your Regional Youth Manager for initial checking and please note* Electronic signatures are not accepted.
What happens once the Regional Youth Manager has approved the application?
Once your application has been checked, the Regional Youth Manager will forward it to the Head of Youth & School Programmes to review the application. If the Head of Youth and School Programmes thinks that some areas of your project need more information or development, this will be fed back to you and you will have the opportunity to make some changes.
Once the Head of Youth and School Programmes approves your application you will be notified and you may commence your project. You must then complete your project in a minimum of 18 months and a maximum of three years from the date of the approval.
What kind of projects can I do?
The nature of project and the way you present it is completely up to you. However, your project must target three key areas:
Personal development
Benefit to St John in New Zealand, and
Benefit to the community.
Personal Development
This area is all about you. For example:
How will you benefit from undertaking the project?
How will it benefit you in the future?
Will it help with your career and educational prospects?
Will it help increase specfic skills and experience?
Benefit to St John in New Zealand
How does St John benefit? For example:
Does your project help St John achieve any of it's organisational goals?
Does your project address a particular problem or issue?
Is there potential for postiive publicity for the organisation?
Is there potential to raise funds for St John?
Benefit to the Community
Benefit to the community is all about demonstrating that there is a need for your project in your community of choice. We recommend you keep your focus local, such as area or district. Regional and National projects are very challenging.
To demonstrate need, you need to provide evidence that there is some kind of issue, problem or area that requires improvement. For example, if you were interested in conducting a project about raising the importance of learning first aid in young people in your local community, you would need to provide evidence of assessing the real need through community surveys and research.
Presenting your work:
The format in which you present evidence of your final work is totally up to you. It might be one or more of the following:
Written report
Video
Website
Portfolio of work
Podcast
Blog
If you choose a written piece, you must include appropriate referencing/citation of any sources used. Where a creative or alternative piece is submitted, you will need to include a written explanatory piece on:
The project purpose
The project methodoly
How the idea/need is demostrated
Development over time, and
How the project used to benefit the individual, St John and the Community.
Your work needs to be substantive, thorough, authenticated as your own and of a high standard.
Make it Achievable
You want to make your project realistic and achievable. You want to keep it focussed and not too complex. This is why it is important to have a mentor for your project who can help you to set realistic and achievable goals for your project, and help you monitor your progress over the life of the project. They will also help you decide if your project is outside of your experience level and what might be more appropriate based on your skills and knowledge, or help you develop a plan to increase your skills and knowledge in a particular area.
If you find your project is not achievable, you may alter your project plan. To do this you will need to seek confirmation from the Head of Schools and Youth Programmes that the changes you are suggesting are acceptable. You may not fundamentally alter your project aim without resubmitting your entire application.
Achieving the Award
A panel is established to assess your work. The panel will be looking to ensure that you have clearly demonstrated achievement in each of the three criteria above.
The panel will also confirm that you have completed 5 years of consecutive service to St John at your project's end. Service is recognised where 60 hours of contribution is given to St John annually.
If the panel is satisfied, based on the evidence provided, that you have achieved your project to a high standard and that all criteria are met, a summary of your work and achievements will be submitted to the Priory Honours Committee for approval, before being submitted to the International Office by 1 November each year.
Once approved, you will receive a certificate personally signed by Her Majesty, The Sovereign Head of the Order.