St John has this week shared the ASB St John in Schools te reo curriculum with the public.
As well as the new curriculum, we have also recruited three new fluent te reo educators ready to travel to Māori-medium education providers around the country, with an invitation for kura kaupapa and kōhanga reo to get in touch and work together to co-design tailored courses for them.
Funded by ACC, the full curriculum was refreshed earlier this year, including the update and te reo translation.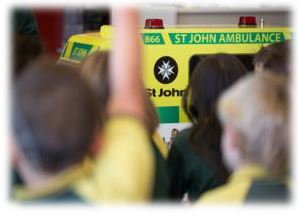 Sarah Manley, Director of Community Health Services says the launch is significant, not only for tamariki, but for their whānau, friends and communities who can also benefit from their training.
"This year also saw the 400,000th child to be educated through our programme, so to tick off another extremely important milestone in 2018 gets us that next step closer to equitable health outcomes for the entire country."
With ACC supporting the programme since it started, Isaac Carlson, Head of Injury Prevention at ACC says being part of the next phase was really important.
"We see the NZ Schools Curriculum update, and the te reo translation as a positive step towards ensuring even more New Zealand tamariki are prepared to deal with injury."
---