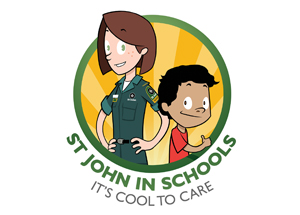 Over the past 18 months, St John's schools programme has been rebranded, redesigned and restructured based on our customers (schools) needs. The programme formerly known as Safe Kidsis now renamed as St John in Schools with Rachel and Sam as the programme's mascots. The new programme aims to provide young people with the skills and knowledge to take responsibility for their own health and well-being and the well-being of others. The St John in Schools programme is now actively being delivered in many parts of the country and the outcomes of which contribute towards our Community Health outcomes focus of our Integrated Business Plan.
The programme is delivered through Community Educators under the leadership of a Community Education Team leader in Northern and South Island regions. A pilot programme is underway in Gisborne, with the intention of delivering the programme in Central Region in the near future.
The St John in Schools programme provides learning experiences for pre-school, primary and intermediate school aged children to empower them to act in an emergency. Community Educators visit schools to provide young people with the skills and confidence to take action in response to an emergency situation. The programme values children of all ages and recognises their ability to make a difference in an emergency situation.
The new structure of the programme contains a number of new modules, of which two are currently being piloted mainly in Thames and Gisborne
- Responding in an Emergency
- Disaster Preparedness (pilot phase)
- Accident Prevention and Injury Care (pilot phase)
- Camping
There are also other modules currently in development:
- Caring for Children and Leadership
- Caring in your Community
Within each of these modules there are different levels available to cater to all different age groups and learning abilities. The St John in Schools Programme provides learning experiences for students that relate to the key learning areas of health and physical education, and science in the New Zealand School curriculum.