The United Nations International Youth Day is on 12 August.
This year's theme is 'Youth Building Peace'. The day is dedicated to celebrating young people's contributions to conflict prevention and transformation as well as inclusion, social justice, and sustainable peace.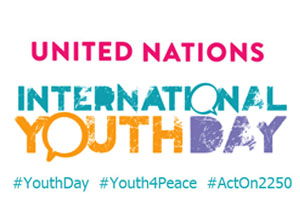 Young people's inclusion in the peace and security agenda and in society more broadly, is key to building and sustaining peace. The process of social inclusion for youth, including participation in decision-making as well as access to quality education, health care and basic services promotes their role as active contributors to society and affords young people with opportunities to reach their potential and achieve their goals. When youth are excluded from political, economic and social spheres and processes, it can be a risk factor for violence and violent forms of conflict. Therefore, identifying and addressing the social exclusion of young people is a precondition for sustaining peace
For St John, International Youth Day 2017 is about building the awareness of this day with our St John Whanau, with more focus on activities we can do together next year. We have prepared Youth divisional profiles showing some of the ways divisions across the country are embracing diversity.
St John continues to explore creating an inclusive environment within these divisions, with a positive impact on Youth members and their local community. You can view the divisional profiles here.
We would like to acknowledge and thank the St John Youth Advisory Group led by the National and Regional Cadets of the Year, Ella, Maddison and Mikayla, for all the work they have done to help us build awareness of the International Youth Day, Diversity and Inclusion within St John.
This is only the beginning.
Kua tāwhiti kē tō tatou haerenga, ki te kore e haere tonu, He tino nui rawa ō tatou mahi, kia kore e mahi nui tonu. We have come to far not to go further, we have done much not to do more. - Sir James Henare
Click on the banner below to learn more about International Youth Day 2017.

– Sarah Manley | Director of Community Health Services