Today is International Children's Day and is celebrated each year to promote international togetherness, awareness among children worldwide, and improving children's welfare. Supported by the United Nations, Children's Day provides us with the opportunity to advocate, promote and celebrate the right of children to be within a safe learning environment that enables the fulfilment of their potential.
The St John Youth Programme has proudly supported the young people in our communities for over 90 years, playing a key role in providing a stimulating learning environment to foster growth for our rangatahi.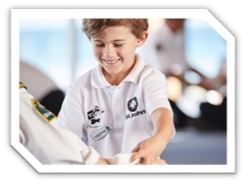 Cadets in our youth programme learn a wide range of life skills focusing on first aid, leadership, effective communication, caregiving and outdoor education amongst many others.
Many cadets who have passed out of our programme have continued within the tradition of service that the Youth Programme upholds; becoming youth leaders to support and empower the next generation of rangatahi.
The key message of Children's Day is embodied through the words of Dame Whina Cooper: "Take care of our children. Take care of what they hear, take care of what they see, take care of what they feel. For how the children grow, so will the shape of Aotearoa."
Universal Children's Day highlights the important role we have in shaping some of the young minds of New Zealand in a positive and impactful way through our Youth Programme
---