On Friday 9 October, three of our exceptional young leaders Sharnah Pascoe
-
Scouller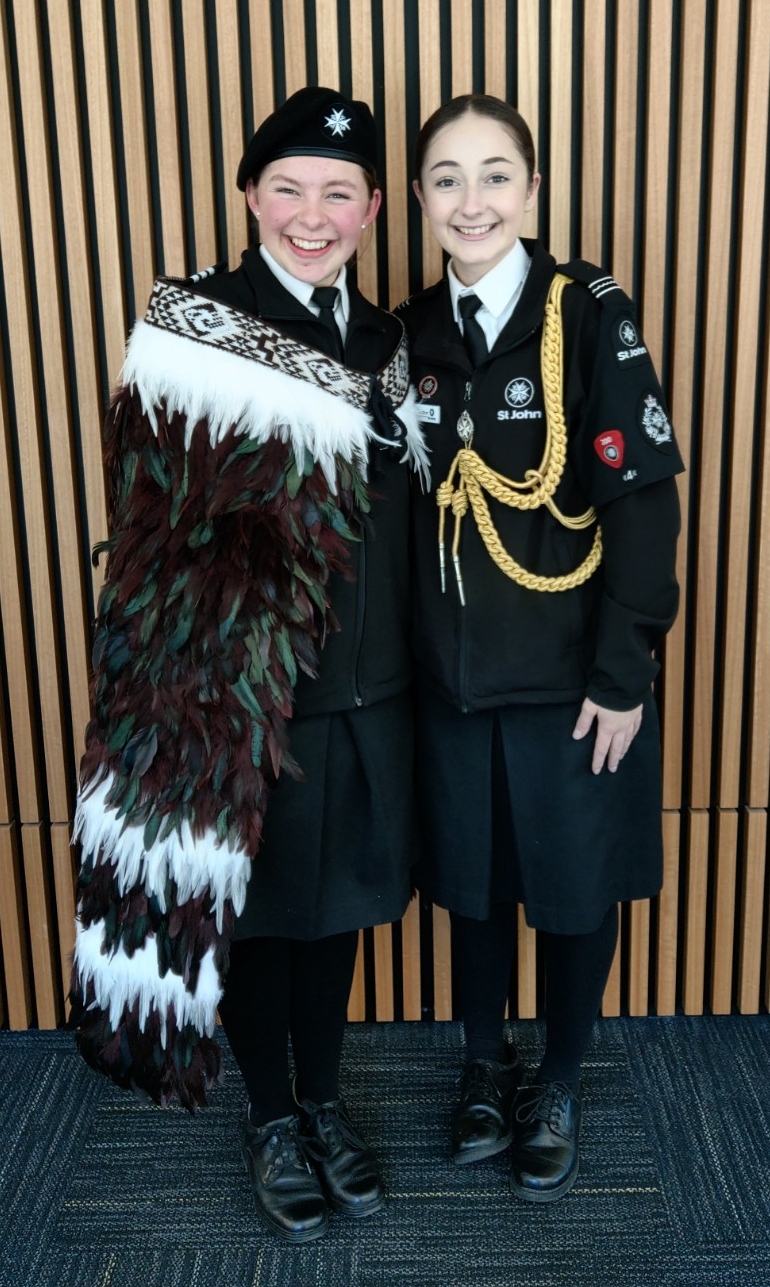 (Northern
Region
), Caitlin Hedge (Central
Region
) and Amy Lidgett (South
Island
Region
) came together to challenge for the role of National
Cadet of the Year.
They met with a panel of
five selectors,
made up of James Stewart (National
Operations Manager EAS Volunteers), Laura McConchie (Training and Quality
Manager EACC), Inspector Peter Cooper Ne
w Zealand Police, Jessa Gardner and
Kerry Mitchell.
After a very inspiring and challenging day, it gives me great pleasure to announce
the appointment of Caitlin Hedge as our new National Cadet of the Year (NCOTY)
202
1. Caitlin is 17 years old, and a Cadet Sergeant from Tamatea Youth Division.
Caitlin was introduced to St John Youth by her father visiting a division when she
was six years old. Caitlin's father is a Member of the Order, Ambulance Officer, and
Chaplain f
or St John, and Caitlin wanted to follow in his footsteps. Caitlin says that
once she joined as a Penguin, there was no looking back, and her father
'
s example
has helped her to be the leader
she is today.

Outside of St John, Caitlin is a leader in her school life as a member of the Havelock North High School's Better Places Committee. Caitlin is also an excellent singer; this can be seen on our Waiata and Himene training videos as well as in her multiple roles in her school's choirs. As part of her role, Caitlin will be responsible for supporting the Cadets of the Year across the country as well as other national programmes of work that will occur in her time as NCOTY. Caitlin will also provide a Youth voice to Priory Chapter, attending their meetings and helping to provide a Youth lens to the governance of St John. Caitlin will be formally presented to the Prior, Dame Patsy Reddy, at the Wellington Investiture at Government House on 7 November where she will also receive her Grand Prior's Award. She will fully commence in her role in on 1 January, 2021, allowing her to receive valuable mentoring from our outgoing Cadet of the Year Jessa Gardner. The National Youth Leadership Team is excited to work alongside Caitlin next year in her role as National Cadet of the Year 2021.


I also want to take the opportunity to acknowledge the other applicants who made
selecti
ng Caitlin a challenge. They inspired us all with their kōrero, their mana and
their presence. These young women make us proud of our organisation and fill us
with confidence for the future of St John and Aotearoa.
Lastly, I want to acknowledge Jessa Gard
ner, our outgoing NCOTY. Jessa has risen
to the challenge of NCOTY in a year unlike anything anyone had planned for or
expected. Her leadership, passion and drive kept the team lively and engaged over
this challenging period. Her dedication to representing
youth voice has seen her
contribute so much to the National Youth Leaders
hip team. While we will miss her involvement in NYLT, we know that she will go far in St John and in life.
Ngā mihi nui ki a koutou whānau!


Kerry Mitchell CStJ

National Youth Manag
er
St John New Zealand