Diversity means more than race and gender. At St John we understand the value of creating environments where many different voices are heard and all opinions are valued and considered.
These voices come from people who may or may not be of the same gender identity, race or ethnicity, sexual orientation, religious affiliation, access need, personality type and/or thinking style.
At St John we draw upon these unique experiences, perspectives and backgrounds to advance our organisational goals and better help the communities we serve.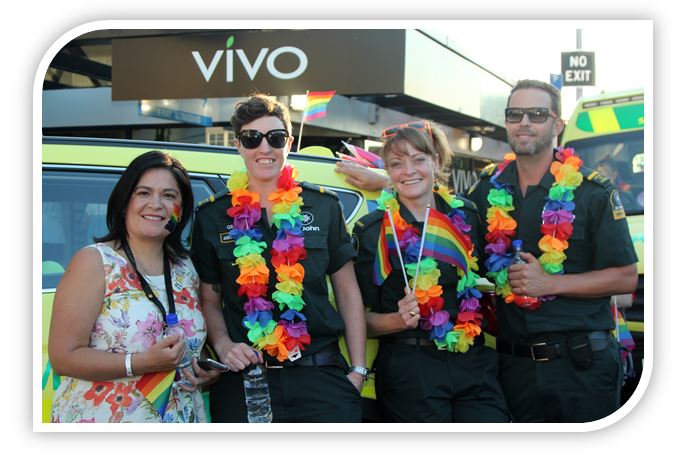 Sealed with a tick...
Here at St John, 'diversity and inclusion' isn't something we do, it's who we are - diverse and inclusive. We embrace difference and recognise the vital role it plays in shaping our organisation and, ultimately, our success.
On 16 January 2017, St John was awarded with the Rainbow Tick, recognising that we actively embrace sexual and gender diversity. At St John, celebrating our 'Rainbow' or LGBTTI (lesbian, gay, bisexual, transgender, takatāpui and intersex) / LGBT+ community comes naturally to us, but what makes us proud? We are the first and only emergency service in New Zealand to have Rainbow Tick certification, setting the benchmark and leading the way for others to follow.
St John first joined the Rainbow Tick programme to gain a greater appreciation of what it's doing well for its LGBT+ personnel, how it could improve, and how it could be an example-setting organisation that understands and values sexual and gender diversity.
The Rainbow Tick is defined as a quality improvement cycle, "designed to make an organisation a safe, welcoming and inclusive place for people of diverse gender identity and sexual orientation." Greater diversity allows us to harness a richer range of ideas, insights and perspectives to better understand and serve our communities.
This begs the question, shouldn't every organisation be "safe, welcoming and inclusive" for everyone? It is so simple to achieve, simply by celebrating what makes each of us unique, and we encourage everyone to join our journey and follow our example. #hereforlove
- St John Diversity & Inclusion Lead, Cat Valentine
St John New Zealand | Hato Hone Aotearoa